National Apprenticeship Week 2020
---
Monday 24th Feb 2020
---
As part of National Apprenticeship Week 2020, we're shining a light on some of the dedicated and hard-working apprentices currently working here at South Wales Fire and Rescue Service.
Meet Sam Howells, he's an Apprentice Motor Vehicle Technician in the Fleet and Engineering Department. He's just over a year into his four year apprenticeship with the Service and has developed a number of skills and attributes within that time. He said, "This was a big step for me, confidence wise and practically as well. I did engineering in school, but it was nowhere near as challenging as what this has turned out to be. I work very closely with the experienced staff here who've taught me a lot and passed on lots of knowledge and tips, which I find really beneficial."
Living just across the street from Pencoed Fire Station, Sam has always been interested in a career within the Fire and Rescue Service. After seeing the advert for the apprenticeship on Facebook, Sam immediately sent it to his mum and asked her to print off an application form and the rest is history. As part of the four year apprenticeship, Sam will receive a competitive apprenticeship wage, qualifications in body work and paint and the opportunity to gain a wealth of experience from the highly skilled staff within the Fleet and Engineering Department.
When asked what advice he would give to someone looking to apply for an apprenticeship in the Service, he simply said: "Do it. 100% do it."
As well as his full time apprenticeship, Sam is also an On-Call Firefighter at Pencoed Fire and Rescue Station, something he's always wanted to do. Having passed his two-week initial course in November 2019, he will now continue with his development on station. All of us here at South Wales Fire and Rescue Service are excited to see Sam develop professionally within his apprenticeship and operational role as an On-Call Firefighter.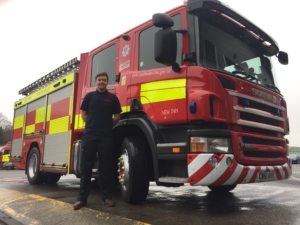 *The featured image is Sam stood next to the first fire appliance that he resprayed*