New Online Home Safety Test As Firefighters Attend Nearly 400 Accidental House Fires In South Wales
---
Tuesday 29th Sep 2020
---
For the first time Welsh households can now check how safe their property is from the risk of a fire at the click of a button.
South Wales Fire and Rescue Service have launched a quick and easy online test to review how safe you are at home.
Since the start of the year, firefighters have attended nearly 400  accidental home fires across South Wales with cooking and faulty appliances being the highest causes. House fires can have devastating consequences, including significant damage to property and personal items, injury and in tragic circumstances loss of life.
In a bid to reduce such fires the new self-assessment tool will allow you to evaluate your own risk by answering some simple questions around charging your phone, working smoke alarms, cooking, fire escape plans and much more. The unique tool provides tailored advice and handy tips throughout to help you reduce the risk of a fire within the home.
Answers will then be calculated with your level of risk, with those scoring medium or high being offered a FREE home safety check.
A specialist Home Safety Practitioner will then make contact and where risk has been identified, offer a range of advice and support and where needed the installation of essential fire reduction products, such as smoke alarms and heat detectors.
In response to the Covid-19 pandemic, we have adapted the way we deliver our support by modifying home safety checks offering virtual education, handy guides and doorstep deliveries.
Head of Risk Reduction Jason Evans said: "Our aim remains unchanged – to keep South Wales safer by reducing risk but we are really proud to have successfully introduced new ways of working which will help support the communities we serve. Covid-19 has challenged us in many ways and we have demonstrated and implemented a vision of creativity and innovation. By modifying the way in which we engage with our communities and those most at risk during this time we have continued to provide the necessary education around home safety where it is needed. We believe it is much better to save lives by equipping people with the knowledge and skills they need to stop a fire from occurring in the first place than wait until disaster strikes. This tool does not replace our existing services, but we hope it will enhance the way we can help, giving people the chance to visit our website whenever they can and get immediate access to the advice they need."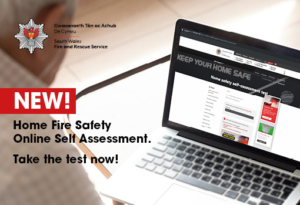 The Community Safety Team have conducted 1000 modified checks, nearly 500 doorstep deliveries and over 200 critical visits in a matter of months.
All we ask is that you answer all questions honestly so we can ensure you get the support you need.